These days, the lines between political punditry and meager entertainer are more vague than ever, with a number of inexperienced and under-educated leftists simply deciding that they are now "activists".
There is a long history of this, with Hollywood being one of the main culprits of this frivolous fervor.  Leonardo DiCaprio comes to mind, as does George Clooney, with the latter having been so vehemently political during one awards show speech that the transcript was used to create a "smug cloud" in an episode of South Park.
This is the same episode, of course, where the Toyota Prius becomes incredibly popular and residents of California are seen sniffing their own flatulence out of wine glasses.
take our poll - story continues below
Completing this poll grants you access to The Constitution updates free of charge. You may opt out at anytime. You also agree to this site's Privacy Policy and Terms of Use.
Trending: Watch Obama Trash the USA 18 Different Times During His Recent Trip Abroad
So, it should come as no surprise that other Hollywood harlots are falling in line with Clooney's faux-activism.  Most notably, former television host Chelsea Handler has transitioned from being a loud proponent of drugs on Netflix, to being a "leading" voice in the liberal resistance to President Trump via Twitter.  Apparently, all it takes to become a political "activist" is 140 characters and a few followers.
Handler, who hasn't yet put any actual feathers in her activism cap, has taken to social media today in order to call for an "uprising" against the U.S. government…something that is quite at odds with her views on the Second Amendment.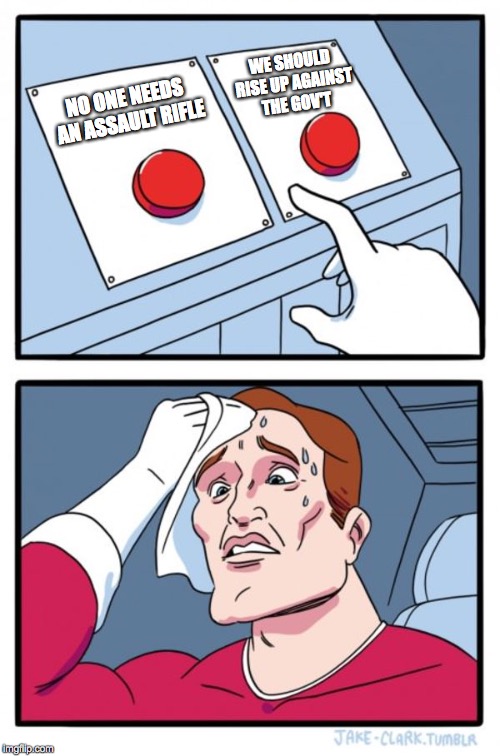 Tough choice, eh Chelsea?
Her latest tweets were not only a conundrum of tyranny versus force, but they also eschewed any personal responsibility in the matter, asking someone else to do the dirty work for the former starlet.
Can someone please DM who knows of an organized movement to revolt against this latest trump abomination at the border? We need to stop everything and march until this Trump policy ends. We are going to end up like Germany in WWII. We have to all stand up and do something.

— Chelsea Handler (@chelseahandler) June 18, 2018
"Stand up and do something"?  Like what?  Tweet about it, Chelsea?
Handler isn't always known for her brains, however…
Handler has carved out a space for herself as a leading light in "the resistance" since Donald Trump won the 2016 presidential election, quitting TV after her show was cancelled to focus on "activism" full-time. Last week she referred to the president as a "Putin puppet "and a "domestic enemy." Before immigration, her immediate focus was gun control, in which light she made the implausible that her armed bodyguards avoid"semi-automatic" weapons.
So, beware to those who would assault Chelsea Handler:  You're likely to get a stern talking-to or hit with a slingshotted marble if you cross her bodyguards' line in the sand.