Liberals are obsessed with race.  A movement that claims to be color-blind ironically always points out color when they think it furthers their cause.  However, they blatantly ignore it when it exposes their hypocrisy.  Liberals proved this once again on Twitter, commenting on the "diversity" of the crowd at President Donald Trump's inauguration.  Yet they all snubbed Justice Clarance Thomas and his historical moment.
Comments flooded Twitter regarding the "lack of color" at the Friday's inauguration ceremony.
It's amazing to see Americans of so many races and colors at the #inauguration. White, egg shell, pearl, alabaster, taupe, ivory, chalk.

— Jack Kimble (@RepJackKimble) January 20, 2017
Trending: Beto O'Rourke Denies Key Detail in His DIY Arrest…But the Police Report Says Otherwise
What a great moment! (unless you're black, Muslim, LGBTQ, a woman, Latino, the press, disabled, or a fan of basic decency) #Inauguration

— Jason Selvig (@jasonselvig) January 20, 2017
take our poll - story continues below
Completing this poll grants you access to The Constitution updates free of charge. You may opt out at anytime. You also agree to this site's Privacy Policy and Terms of Use.
The stunning, uniform whiteness of the crowd is not lost on the rest of us who also make up the many communities of America. #Inauguration

— Wajahat Ali (@WajahatAli) January 20, 2017
Is it snowing in DC? All I see is white everywhere 🙃#Inauguration

— eemi (@eemanabbasi) January 20, 2017
DC is often referred to as "Chocolate City." … Well … How can I put this? … Ummm … NOT TODAY. #Inauguration

— Van Jones (@VanJones68) January 20, 2017
There was even criticism of the "lack of diversity" in the performers.
The lack of diversity at Trump's #Inauguration can't even be ignored. By performers, attendees and everyone else.

— HuffPost BlackVoices (@blackvoices) January 20, 2017
Yet, I wonder how many of these self-righteous Tweeters cheered the badgering, ridiculing, name-calling and threatening of performers in the weeks leading up to the event?
Tony Award-winning Jennifer Holliday was scheduled to perform at Trump's inauguration.  As she had performed at other presidential inaugurations, including Ronald Reagan, George H.W. Bush, Bill Clinton, and George W. Bush, it seemed natural.  Even though her candidate lost, she saw an opportunity to illustrate unity. Instead, she received death threats and bullying, not from Trump supporters, but from the "tolerant" left.  Black liberals called the black Broadway legend everything from an "Uncle Tom" to a "n*gg*r". For her safety, she withdrew from the event.
A marching band from an historically black college in Alabama announced their participation in the ceremonies. Black writer and activist, Tariq Nasheed, responded by referring to them as "coons".
"So the HBCU [historically black colleges and universities] Talladega College Marching Band has agreed to perform at the Trump inauguration…that's interesting," Nasheed wrote, adding a picture of a group of raccoons playing instruments.
So the HBCU Talladega College Marching Band has agreed to perform at the Trump inauguration.. That's interesting pic.twitter.com/Md7coDiHLC

— Tariq Nasheed (@tariqnasheed) January 17, 2017
This racial slur is used to describe black people whose job is to entertain whites.  Offended by the harassment, Trump supporters responded by raising over $600,000 to cover the band's expenses to DC.
In an online video, Rapper Snoop Dogg issued a blanket threat to anyone of color thinking of performing at Trump's inauguration.  Thousands of viewers saw it.
"So ain't nobody going to perform for Donald Trump, huh? Which one of you jigaboo-a** n*ggas gonna be the first one to do it? Wait, I'm going to roast the f**k out of one of you Uncle Tom-a*sed n****s for doing it."  
This is liberal tolerance.  This is the left's idea of racial freedom.  What is even worse is it is coming from within the black community.
Any minority daring to step off the Democrat plantation is bullied and brow beaten, especially by other minorities.  Their tactics are reminiscent of the Ku Klux Klan, who terrorized blacks, forcing them into the Democrat voting block. Then they criticize the lack of minorities visibly putting themselves in the Republican camp.
Senator Tim Scott recently received a denigrating tweet just for being a Republican.  Referred to as "house" n*gga, Scott gently reminded the twitterer that he is in the Senate.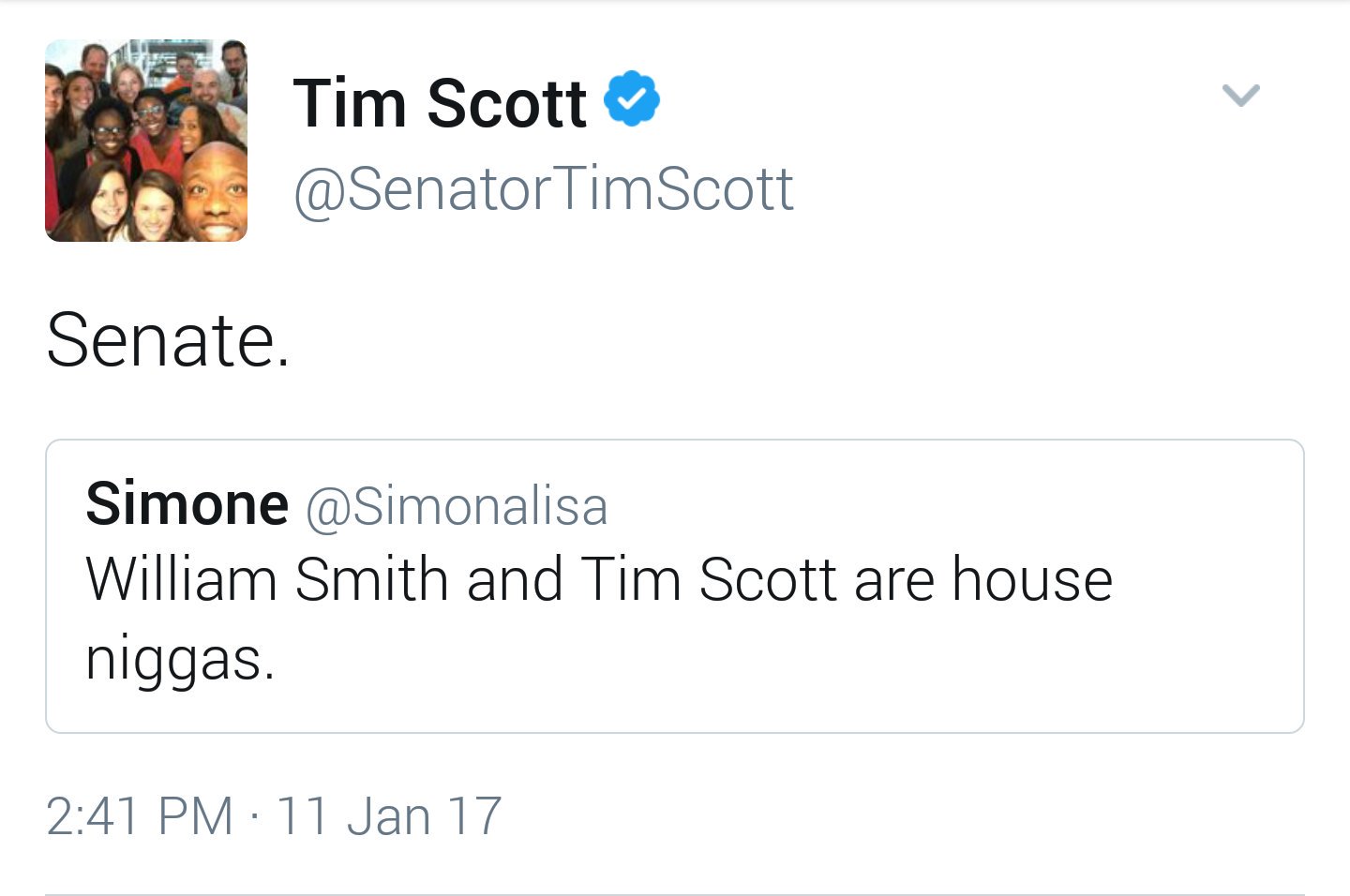 But the saddest reality of the day was what these champions of the black cause missed.  They were so busy criticizing low minority attendance after threatening them for months, they missed an event everyone should be widely celebrating.  For the first time in American history, a black Supreme Court Justice administered the oath of office at a presidential inauguration.
Justice Clarence Thomas preformed the swearing in of Vice-President Mike Pence.  Blacks across the country should be praising Justice Thomas' accomplishments.  But to do that would be to admit that a Republican appointed Justice Thomas.  Also, that he is an extremely conservative Constitutionalist. But that just doesn't fit their agenda.
As Pence stated, "It will be my honor to take the Oath of Office to defend our Constitution from a man who has dedicated his life to the same noble pursuit."  Pence added he has "long admired Justice Clarence Thomas and deeply respect his judicial philosophy, dedication to the rule of law, and his historic service on the bench of our nation's highest court."
As this shatters the left's narrative of what a black person should be, they ignore it.
Justice Thomas administers Vice Presidential Oath to @mike_pence. #Inauguration #Trump45 pic.twitter.com/7X6fNgMuzf

— Fox News (@FoxNews) January 20, 2017
In a week that began with the celebration of Rev. Martin Luther King Jr., America awaits the day liberals judge people by the content of their character and not the color of their skin.  A time when liberals finally stop telling minorities who they should be and let them be who they want to be.  A country where black conservatives too can sing, "Free at last! Free at last!  Thank God Almighty, we are free at last!"
But that's just my 2 cents.