Every political year, religion becomes an issue. It's been that way since the founding of our nation. There's no escaping religion and politics. Everyone is religious. Every law on the books is an application of someone's view of religion (the ultimate basis of a person's belief system) and an expression of their view of morality.
What is the source of a person's worldview, their ultimate commitment? It's a question that's rarely asked. And yes, atheists are just as religious as the most fundamentalist Christian. Atheists are fundamentalist materialists, and so-called Progressives are fundamentalist secularists. What they believe is fundamental to their worldview.
There are Christians who are calling on their fellow-Christians to disengage from politics or to acquiesce to the political status quo and suffer under its oppression because we are just wanderers in this world on our way to the next world. Secularists also want Christians to disengage, and will often quote Jesus' words "to render to Caesar the things that are Caesar's."
take our poll - story continues below
Completing this poll grants you access to The Constitution updates free of charge. You may opt out at anytime. You also agree to this site's Privacy Policy and Terms of Use.
Trending: Science is Settled
No doubt Christians prefer to live a quiet life, as the apostle Paul wrote (1 Tim. 2:1–4). They would prefer not to have to expend time, energy, and money to fight laws that one day could end up limiting their freedoms.
These instructions to the young pastor Timothy did not stop Paul from challenging political reprisals raised against him (Acts 22:23-30). He even appealed to Caesar in a time when the majority of Jews had no political standing (25:11-12). Paul made use of his Roman citizenship (22:28), something few Jews had, as we should take advantage of our own citizenship rights. Christians aren't second-class citizens or subjects to a foreign power (at least not yet). We're not devoid of a political right to act, either biblically or constitutionally.
Read related article: "Christians and Politics: Should They be Involved?"
What about the argument that we are to "render to Caesar the things that are Caesar's" (Matt. 22:21)? First, this statement tells us that not everything belongs to Caesar. Second, Jesus also says that we are to "render to God the things that are God's." Caesar is equally obligated.
Third, we don't live under Caesar, a king, or governors sent by a king (1 Peter 2:13-14). We live under the Constitution of the United States that gives us the right — as the First Amendment states — to speak, write, and assemble to "petition the government for a redress of grievances."
It would not be inappropriate to render Matthew 22:21 like this: "Then render to the Constitution the things that are the Constitution's; and to God the things that are God's."
The Constitution is our Caesar, and those who take an oath to uphold the Constitution must render to it. In addition, we have a right and duty to hold our elected officials accountable to their oath. And unlike most Jews in the Apostle Paul's day, we have the ability to change our government (Caesar) every two years at the national and local levels.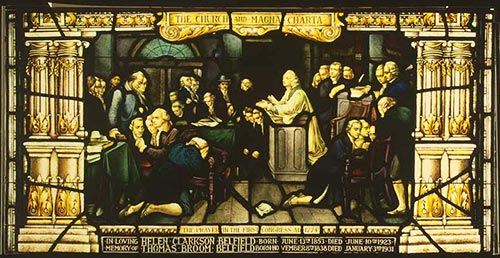 There used to be a time when we did live a quiet and tranquil life because Christians engaged their world culturally and politically. The goal has never been to save the world through politics but to define civil government's limited political role. Christians who refuse to engage politically by default turn over the reins of authority and power to those who believe in a secular theocracy where civil government becomes the new god, and the laws of this secular god are imposed on the citizenry.
What if a government starts molesting people for their beliefs or actions? What should a Christian do? The slave trade, the holocaust, and racial discrimination come to mind. The anti-slave trade was headed up by Christians. Study the life of William Wilberforce (1759–1833). So was the civil rights movement. Were Christians wrong to oppose these moral evils? Why was Israel judged if the people were not to be involved politically?:
How the faithful city has become a harlot,
She who was full of justice!
Righteousness once lodged in her,
But now murderers.
Your silver has become dross,
Your drink diluted with water.
Your rulers are rebels
And companions of thieves;
Everyone loves a bribe
And chases after rewards.
They do not defend the orphan,
Nor does the widow's plea come before them (Isa. 1:21-23).
Resistance movements like those practiced by Christians during World War II have been accepted as morally justified by nearly all ethical thinkers. Thomas Kineally's Schindler's Ark (later made into the film Schindler's List by Steven Spielberg) shows the highest praise for those who defied what was a "legal" government policy.
Corrie ten Boom and her family come to mind:
"Corrie ten Boom has long been honored by evangelical Christians as an exemplar of Christian faith in action. Arrested by the Nazis along with the rest of her family for hiding Jews in their Haarlem home during the Holocaust, she was imprisoned and eventually sent to the Ravensbruck concentration camp along with her beloved sister, Betsie, who perished there just days before Corrie's own release on December 31, 1944."
In Give Me the Children: How a Christian Woman Saved a Jewish Family During the Holocaust, Pola Arbiser describes how her nanny defied the law and hid her and her sister from Nazi officers. The Jewish community of survivors has described these resistors as "righteous gentiles"1 or simply "Christian rescuers."2 These actions were considered to be moral even though they violated Nazi Reich law.
When the allied troops liberated the death camps and saw the atrocities, the soldiers went into the surrounding towns and forced the citizens to walk among the corpses. It was happening right under their noses and they did nothing to stop it. That wasn't the "tranquil and quiet life" Paul was talking about.
---
As reported in Catherine E. Shoichet, "Christian nanny hid Jewish family from Nazis," Atlanta Journal-Constitution (August 27, 2003), E1 and E6. See Pola Arbiser, Give Me the Children: How A Christian Woman Saved a Jewish Family During the Holocaust (Altona, Manitoba, Canada: Friesens, 2003). ↩

David P. Gushee, "Christians as Rescuers During the Holocaust," Must Christianity Be Violent?: Reflections on History, Practice, and Theology, eds. Kenneth R. Chase and Alan Jacobs (Grand Rapids, MI: Brazos Press, 2003), 71. ↩